opens in new window
Community Networks Fall Quarter Gathering
Tuesday, December 5, 2023, 9 – 10:30am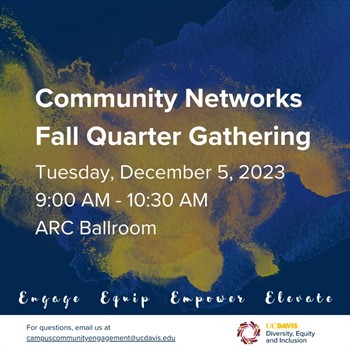 Location of Event:
UC Davis Campus
Event Type:
Free Events, Receptions, Banquets and Networking
Presented by:
Office of Campus and Community Relations
Join us for the Community Networks Fall Gathering! This is a unique opportunity to foster connections, expand your network, and actively engage with the vibrant campus community. This is where you can connect with leaders and members of Employee Resource Groups (ERG) and Administrative Advisory Committees (AAC). Join us to discover more about community networks and how you can become actively engaged.
Everyone is welcome to attend!

REGISTER HERE

Employee Resource Groups: 
African American Faculty and Staff Association (AAFSA) 
Asian Pacific American Systemwide Alliance (APASA) 
Chancellor's Committee on LGBTQIA Communities (CCLGBTQIAC) 
Latinx Staff and Faculty Association (LSFA) 
Native American Faculty and Staff Association (NAFSA) 
Veteran Constituency Group (VCG)
Administrative Advisory Committees: 
Advising for Equity Administrative Advisory Committee (AEAAC)
Disability Issues Administrative Advisory Committee (DIAAC) 
Staff Diversity Administrative Advisory Committee (SDAAC) 
Status of Women Administrative Advisory Committee (SWADAAC)