opens in new window
UC Davis Farmers Market
Wednesday, October 4, 2023, 10am – 1:30pm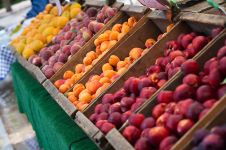 Location of Event:
UC Davis Campus
Event Type:
Environment and Sustainability, Food and Agriculture, Health and Wellness, Outdoor Events
Presented by:
Healthy UC Davis
Sponsored by:
Healthy UC Davis, UC Davis Stores, Campus Recreation, Student Housing and Dining Services, Staff Assembly, Staff and Faculty Health and Well-Being Program, Student Health and Counseling Services, and Davis Farmers Market
The UC Davis Farmers Market runs from 10 a.m. to 1:30 p.m. every Wednesday, Oct. 4 through Nov. 15, at the Student Community Center South Promenade. Visit to get fresh produce and flowers, talk to local growers and support local agriculture. You will also find various campus resources and programs with fun tabling activities!  
Cash, credit cards, debit cards, Aggie Cash and EBT accepted. Market Match for EBT users (up to $10.00) is also available! 
Market vouchers of $2 each are available to use as staff or student incentives! Order yours through the UC Davis Farmers Market website.