opens in new window
Active Aggies: Yoga with Megan
Thursday, September 21, 2023, 12:10 – 12:50pm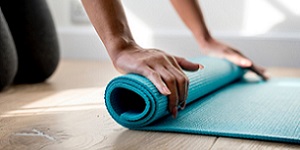 Location of Event:
UC Davis Campus
Event Type:
Free Events, Health and Wellness
Presented by:
UC Living Fit Forever Program
Sponsored by:
UC Living Fit Forever Program
Join your fellow UC Davis community members for a free yoga class led by a UC Living Fit Forever instructor. This mind and body practice combines physical postures, breathing techniques, and meditation to promote mental and physical well-being. Students, staff, faculty and retirees welcome!

Drop-in; no pre-registration is required, however, a waiver is required for attendance. Waivers will be available at each class or email Hs-uclivingfitforever@ucdavis.edu. Visit the UC Living Fit Forever webpage to learn more about Active Aggies, offered in-person, Monday through Friday.