opens in new window
Lara Downes and The Miró Quartet
Saturday, March 2, 2024, 7:30 – 9:30pm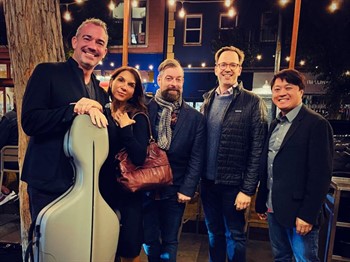 Location of Event:
UC Davis Campus
Contact Phone #:
530.754.2787
Event Type:
Arts and Entertainment
Presented by:
Mondavi Center for the performing arts
A new collaboration between pianist Lara Downes and the Miró Quartet, one of America's most celebrated chamber ensembles. Here On Earth features musical depictions of our planet earth, its evolution, and the lives of its inhabitants, expressed through music that spans centuries, from Haydn's Sunrise Quartet to Darius Milhaud's La Création du Monde (composed in 1923) and Clarice Assad's A World Of Change, newly commissioned in 2023. The concert begins with Jake Heggie's Earthrise, reflecting on the fragility of our tiny blue planet from the perspective of the iconic photograph taken from the surface of the moon during the 1968 Apollo 8 landing. Traveling through time and space, the program telescopes in to celebrate the beauties of the natural world, and explore our relationship to this changing earth that is our home.