opens in new window
The Triplets of Belleville: Benoît Charest & Le Terrible Orchestre de Belleville
Friday, April 5, 2024, 7:30 – 9:30pm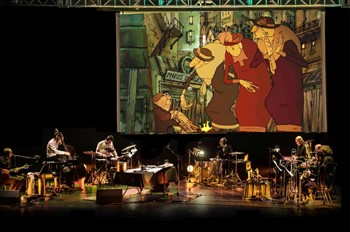 Location of Event:
UC Davis Campus
Event Type:
Arts and Entertainment
Presented by:
Mondavi Center for the Performing Arts
The Triplets of Belleville tells the story of a Tour de France cyclist who is kidnapped by mysterious, square-shouldered henchmen and spirited across the ocean to the teeming metropolis of Belleville. But the true star of the animated film is the hot jazz score written by Canadian composer Benoît Charest. This screening of the beloved French film features Charest leading Le Terrible Orchestre de Belleville in a live performance of the original score, transporting audiences into the streets of 1920s Paris and Le Jazz Hot.