opens in new window
Nature Rx: Wyatt Deck and Mary Wattis Brown Garden Tour
Friday, June 2, 2023, 1:10 – 2pm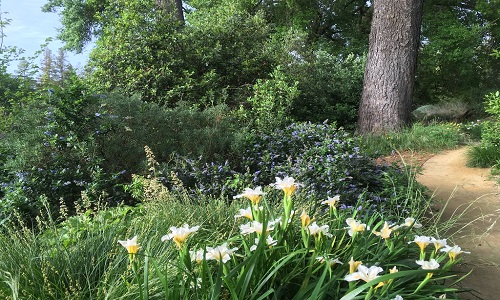 Location of Event:
UC Davis Campus
Contact Phone #:
530-752-6106
Event Type:
Free Events, Health and Wellness
Presented by:
Arboretum and Public Garden and Staff and Faculty Health and Well-being
Sponsored by:
Staff and Faculty Health and Well-being
Kitty Bolte, GATEways Horticulturist, will be providing a tour of the Wyatt Deck and the Mary Wattis Brown Garden, sharing insights of plants, insects, and other horticultural facts that may miss your eye when passing through the Arboretum!
Register for the in-person tour via Qualtrics. Please submit your contact information in the registration survey by 12 p.m. on Tuesday, May 30, and we will conduct a random drawing as spots are limited. If selected, you will be contacted via the email address you provide.