opens in new window
2023 UC Davis Sustainability Summit
Friday, June 2, 2023, 10am – 12pm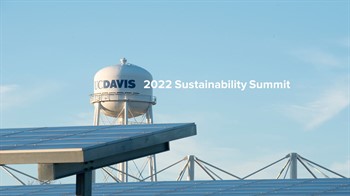 Location:
Student Community Center, Multi-Purpose Room
Event Type:
Ceremonies, Environment and Sustainability, Forums, Discussions and Information Sessions, Free Events, Special Events
Audience Type:
Adults, Alumni, Children, Faculty and Staff, Prospective Students/Family, Students: All Registered Students
Join us for the annual UC Davis Sustainability Summit as we celebrate the campus's sustainability achievements as well as learn about upcoming projects and opportunities.
All are welcome. RSVP required. 
Register by Monday May 29 to attend.