opens in new window
Active Aggies: Cardio, Core, and Balance with Samie
Friday, June 2, 2023, 12:10 – 12:50pm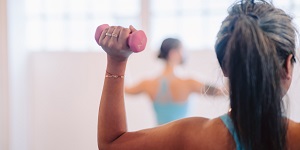 Location of Event:
UC Davis Campus
Event Type:
Free Events, Health and Wellness
Presented by:
UC Living Fit Forever Program
Sponsored by:
UC Living Fit Forever Program
Improve your balance, core strength and cardiovascular endurance including a variety of standing and floor exercises to gently challenge the body and build core strength in the abdominal, back, leg and glute muscles. Includes intervals of cardio, timed drills, and strength training exercises to develop strength, stamina and agility. Modifications are provided to include everyone regardless of ability or fitness level. 

Drop-in; no pre-registration is required​​​​​, however, a waiver is required for attendance. Waivers will be available at each class or email Hs-uclivingfitforever@ucdavis.edu. Visit the UC Living Fit Forever webpage to learn more about Active Aggies, offered in-person, Monday through Friday.