opens in new window
Active Aggies: Bootcamp with Samie
Tuesday, June 6, 2023, 12:10 – 12:50pm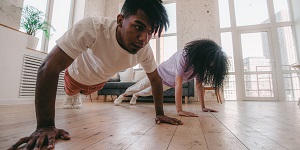 Location of Event:
UC Davis Campus
Event Type:
Free Events, Health and Wellness
Presented by:
UC Living Fit Forever Program
Sponsored by:
UC Living Fit Forever Program
Join your fellow UC Davis community members for a free bootcamp class led by a UC Living Fit Forever instructor. Bootcamp incorporates intervals of cardiovascular and strength training activities using resistance and body weight meant to build strength and endurance in the entire body. Equipment such as dumbbells (provided) and a mat may be used.

Drop-in; no pre-registration is required, however, a waiver is required for attendance. Waivers will be available at each class or email Hs-uclivingfitforever@ucdavis.edu. Visit the UC Living Fit Forever webpage to learn more about Active Aggies, offered in-person, Monday through Friday.