Book Project: Examining the Intersection of Safety and Justice - A Community Conversation
Tuesday, February 7, 2023, 4 – 6pm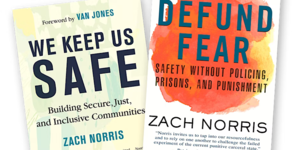 Event Type:
Forums, Discussions and Information Sessions, Free Events, Lectures and Seminars
Presented by:
Campus Community Book Project, Manetti Shrem Museum and Yolo Conflict Resolution Center
How do we weigh safety and justice in our community? What are our roles and responsibilities for building safe and just communities? Using the World Café method, this conversation will draw us into self-reflection, shared dialogue and collective learning around this year's Campus Community Book Project themes of transformative justice and community safety. All are welcome—students, staff, faculty and community members.
Register here.
Immediately following the event, the museum will host a reception and open their galleries for participants. Please join us in viewing and experiencing the Manetti Shrem Museum's current exhibitions, including Mike Henderson: Before the Fire, 1965–1985. 
The 2022-23 book project features a yearlong program around Defund Fear: Safety Without Policing, Prisons and Punishment by Zach Norris, and the overall theme of transformative justice/police reform. See the calendar.