opens in new window
Breakfast with the Chancellor
Thursday, February 23, 2023, 8:30 – 10am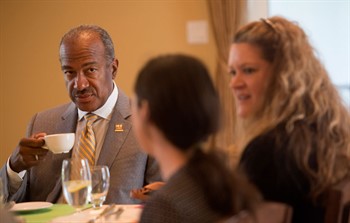 Room:
Chancellor's Residence
Location of Event:
UC Davis Campus
Event Type:
Free Events, Receptions, Banquets and Networking
Presented by:
Staff Assembly
The Breakfast with the Chancellor program is a unique opportunity for staff to meet with the Chancellor and fellow campus leaders to discuss topics that impact staff. Through this program, we invite staff to share ideas on how to improve processes, increase revenue, implement solutions to challenges experienced by staff, and more.
The UC Davis Campus Breakfast with the Chancellor meetings are held monthly. With many staff returning to campus this quarter, we are happy to announce the return of in-person Breakfast with the Chancellor events this year! We recognize that circumstances may change and will adjust and make pivots accordingly throughout the year. Staff Assembly will work closely with each participant to ensure they are able to attend a breakfast on a date that accommodates their schedule.
**Please note: If you are UC Davis Health (UCDH) Staff - do not use this form and sign up HERE instead**