Book Project: Interprofessional Book Club - Discussing Defund Fear/We Keep Us Safe
Friday, February 10, 2023, 12 – 1:30pm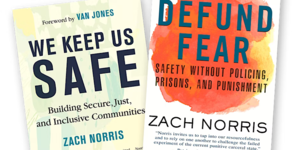 Event Type:
Forums, Discussions and Information Sessions, Free Events, Lectures and Seminars
Presented by:
Jann Murray-García
Sponsored by:
Betty Irene Moore School of Nursing
The Interprofessional Book Club continues the virtual discussion of the Campus Community Book Project selection. Betty Irene Moore School of Nursing Associate Professor Jann Murray-García leads the discussion of the book. This session's discussion covers pages 99-159 and focuses on the question, what are examples of what a care-based approach has secured us?
All students, faculty, staff and community members are welcome whether or not you have read the book.
Register here.
The 2022-23 book project features a yearlong program around Defund Fear: Safety Without Policing, Prisons and Punishment by Zach Norris, and the overall theme of transformative justice/police reform. See the calendar.