Active Aggies: Barre with Tamaho
Thursday, December 1, 2022, 5:30 – 6:30pm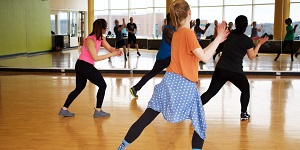 Location of Event:
UC Davis Campus
Event Type:
Free Events, Health and Wellness
Presented by:
UC Living Fit Forever Program
Sponsored by:
UC Living Fit Forever Program
Barre is designed to be a full-body, muscle endurance workout that focuses on major muscle groups including the arms, legs, glutes, and core. The class is inspired by elements of ballet, yoga, and Pilates and focuses on low-impact, high-intensity movements. A mat may be needed for floor work. Students, staff, faculty and retirees welcome!

Drop-in; no pre-registration is required, however, a waiver is required for attendance. Waivers will be available at each class or email UC Living Fit Forever for a waiver at Hs-uclivingfitforever@ucdavis.edu.Visit the UC Living Fit Forever webpage to learn more about Active Aggies, offered in-person, Monday through Friday.