Book Project: Health 34 - Aggie Care Everywhere
Thursday, October 13, 2022, 3 – 4pm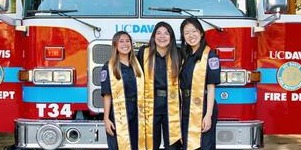 Event Type:
Forums, Discussions and Information Sessions, Free Events, Lectures and Seminars
Presented by:
Nathan Trauernicht and Cory Vu
Sponsored by:
Campus Community Book Project
A presentation by Nathan Trauernicht, Fire Chief, and Cory Vu, Associate Vice Chancellor for Health, Wellness, and Divisional Resources, Student Affairs. Health 34 is an innovative program led by the UC Davis Fire Department that leverages campus and community service providers to deliver mobile non-emergency response. In addition to navigating the UC Davis community to needed services, Health 34 will actively work to reduce barriers to accessing care by meeting those who seek care where they are.
The 2022-23 book project features a yearlong program around Defund Fear: Safety Without Policing, Prisons and Punishment by Zach Norris, and the overall theme of transformative justice/police reform. See the calendar.