opens in new window
Storer Lectureship (public lecture): "Magic HABIT to Prevent Disease and Improve Performance" by Dr. Stachidananda Panda
Monday, October 3, 2022, 4:10 – 5pm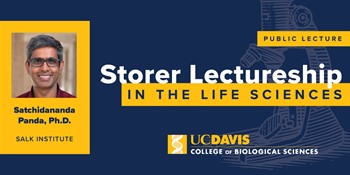 Location of Event:
UC Davis Campus
Event Type:
Free Events, Lectures and Seminars
Presented by:
College of Biological Sciences
Sponsored by:
Storer Endowment in Life Sciences and College of Biological Sciences
Speaker: Satchidananda Panda, Ph.D., Professor, Regulatory Biology Laboratory and Rita and Richard Atkinson Chair, The Salk Institute
Professor Satchin Panda has been a leader in the field of circadian biology throughout his career in science. His discovery of a blue light sensor in the retina has led to human-centric lighting in built environment to optimize sleep, mood, and brain function. He is a pioneer in studying time-restricted eating; he discovered that eating within a consistent 8-12 hours can prevent or reverse chronic diseases and increase healthy lifespan. Finally, his research contributed to circadian genomics studies in insects, rodents and primates and have offered a blueprint for understanding the molecular mechanisms by which circadian rhythms regulate behavior, physiology and metabolism.
Dr. Panda received a number of notable awards to date, including the Whitehall Foundation Junior Faculty award, the Pew Scholar Award in Biomedical Research, and the Julie Martin Mid-Career Award in Aging Research. He is affiliated with the Wu Tsai Human Performance Alliance, the goal of which is to discover biological principles to optimize human performance and catalyze innovations in human health by studying athletes of various ages, genders, ethnicities, abilities and disciplines. Finally, Dr. Panda is an accomplished author and has published two books, the Circadian Code and the Circadian Diabetes Code.
Host: Joanna Chiu (jcchiu@ucdavis.edu)

Hybrid Format
In-person at ARC Ballroom & via Zoom Webinar
EventBrite Registration