The Mediterranean Diet: A Farm-to-Fork Spin on an Age Old Favorite
Tuesday, May 24, 2022, 12:10 – 1pm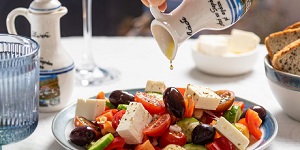 Event Type:
Forums, Discussions and Information Sessions, Free Events, Health and Wellness
Presented by:
UC Davis Health Food and Nutrition Services
Sponsored by:
Staff and Faculty Health and Well-Being Program
If you want to learn more about the Mediterranean diet, be sure to sign up for this presentation. You will learn health benefits and how to incorporate traditional Mediterranean foods into a healthy eating style unique to California's cultural foods, value systems and lifestyles. You will also learn how to plan 1-2 simple Mediterranean Diet-inspired meals using Farm-to-Fork ingredients that you can apply at home and share with your own families.

Register for the event via Zoom. After registering, you will receive a confirmation email containing information on how to join the Zoom webinar.