UC Davis Farmers Market
Wednesday, May 18, 2022, 11am – 1:30pm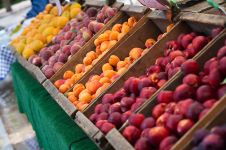 Location of Event:
UC Davis Campus
Event Type:
Environment and Sustainability, Food and Agriculture, Health and Wellness, Outdoor Events
Presented by:
Healthy UC Davis
Sponsored by:
Healthy UC Davis, UC Davis Stores, Campus Recreation, Student Housing and Dining Services, Staff Assembly, Staff and Faculty Health and Well-Being Program, Student Health and Counseling Services, and Davis Farmers Market
The UC Davis Farmers Market runs from 11 a.m. to 1:30 p.m. every Wednesday, April 6 - May 18 on the Quad. Stop by and grab some locally grown fruit or veggies, locally baked product and cute little house plants. Take a break on the quad and enjoy the beautiful weather while connecting with friends and supporting local agriculture. 
Cash, credit cards, debit cards, Aggie Cash and EBT accepted. Market Match for EBT users (up to $10.00) is also available!