Bootcamp with Van
Friday, February 4, 2022, 12:10 – 12:50pm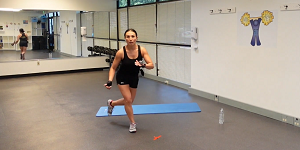 Event Type:
Free Events, Health and Wellness
Presented by:
UC Living Fit Forever Program
Bootcamp includes high intensity cardio, timed drills, and circuit training to develop strength, stamina and agility. These include any class with an extended period of cardiovascular exercise mixed with strength training classes. RIPPED and Total Body Fitness can also be found under this heading. Can be modified for any fitness level.

Register for the weekly session via Zoom, offered every Friday through December 2022. After registering, you will receive an email confirmation with information on how to join the sessions. Visit the UC Living Fit Forever webpage to find more fitness classes, including in-person HIIT, Strength, Gentle Yoga, and more!