Kickboxing with Van
Tuesday, January 18, 2022, 6 – 7pm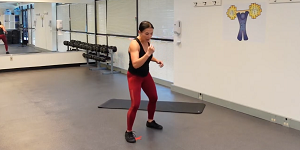 Event Type:
Free Events, Health and Wellness
Presented by:
UC Living Fit Forever Program
Kickboxing combines martial arts techniques like punching, kicking and blocking with cardiovascular endurance to bring a high-energy workout. You can build stamina, improve your coordination and build lean muscle all while burning calories and having a great time! Can be modified for any level.

Register for the weekly session via Zoom, offered every Tuesday through December 2022. After registering, you will receive an email confirmation with information on how to join the sessions. Visit the UC Living Fit Forever webpage to find more fitness classes, including Barre, Pilates, Yoga and more!