Study Abroad & Internship Fair
Wednesday, January 26, 2022, 11am – 2pm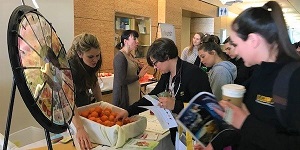 Location of Event:
UC Davis Campus
Event Type:
Fairs, Expos and Exhibits
Presented by:
UC Davis Global Learning Hub
STUDY ABROAD IS BACK!
Are you considering studying abroad this summer or next year, or completing a global or virtual internship? Drop by to explore the many opportunities available for UC and UC Davis credit!
Talk with UC Davis Study Abroad program instructors, advisors, and internship providers.
Choose from 30+ faculty-led programs or 100+ universities, from Argentina to Thailand
Receive on -the-spot advising about financial aid, scholarships and program enrollment
Explore even more options with advisors for the UC Education Abroad Program, the Internship and Career Center, the Global Studies Minor and more.
FREE PIZZA, T-SHIRTS AND RAFFLE
Workshops in Student Community Center Meeting Room E (in-person only):
12:10-1: Global Study Minor
1:10-2: Funding Study Abroad 
2:10-3: Study Abroad Award Writing Workshop
3:10-4: The Gilman Scholarship for Studying and Interning Abroad