Well-Being Deal Tickets On Sale: Pamyua
Monday, November 1 – Monday, November 15, 2021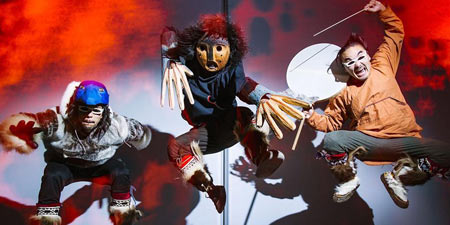 Location of Event:
UC Davis Campus
Event Type:
Arts and Entertainment
Sponsored by:
Mondavi Center for the Performing Arts, Staff and Faculty Health and Well-Being Program, and Healthy UC Davis
Every month through May, staff and faculty can buy $10 tickets (maximum two per person) during a specified period of time for a specific show at the Mondavi Center for the Performing Arts.
Well-Being Ticket Deal for November: Tickets on sale Nov.1-15 for a culture-infused music-and-dance performance by Pamyua at 2 p.m. Sunday, Nov. 21. The Anchorage-based Pamyua, formed in 1995 and now a symbol of pride for Alaska's Indigenous people, blends traditional Inuit drum-dance melodies and R&B vocal styles in a genre often described as Inuit soul. Or maybe it's tribal funk. Either way, it's a joyful expression of Indigenous culture, performed masterfully and with sincerity.

This performance is sponsored by the Office of Diversity, Equity and Inclusion (which suggests the show as a complement to the DEI Open House on Friday, Nov. 19) and associated with the SHAPE course "Radical Storywork: Performing Relational Approaches to Inuit Food Fermentation and Food Security." SHAPE stands for Science, Humanities and Arts: Process and Engagement.
The Well-Being Ticket Deal is available:
By phone — Call 530-285-0992 from 1 to 5 p.m. Monday through Friday.
Online — Use Promo Code BEWELL2122.