Book Project: Demanding Truth to Power as Spoken Word Poets, Activists and Healers
Tuesday, February 15, 2022, 4 – 6pm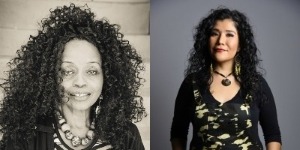 Event Type:
Forums, Discussions and Information Sessions, Free Events, Lectures and Seminars
Presented by:
Dr. Ayodele "Wordslanger" Nzinga & Tanaya Winder
Sponsored by:
Campus Community Book Project, Manetti Shrem Museum of Art and Strategic Asian and Pacific Islander Retention Initiative
A performance and discussion panel featuring:
Dr. Ayodele "Wordslanger" Nzinga, Poet Laureate of Oakland, Educator and Activist
Tanaya Winder, Educator, Poet and Activist
Express interest here. You will be notified of the virtual event details.

The 2021-22 book project features a yearlong program around How to Be an Antiracist by Ibram X. Kendi, and the overall theme of social justice in practice. See the calendar.