Reimagine Russell Boulevard: Virtual Community Workshop
Wednesday, October 6, 2021, 5:30 – 7pm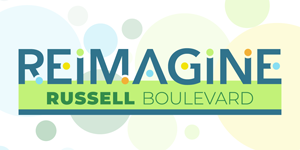 Location:
Zoom Event (Register Below)
Event Type:
Forums, Discussions and Information Sessions, Free Events
Presented by:
UC Davis Campus Planning
Join us for the second Virtual Community Workshop for Reimagine Russell Boulevard. The purpose of the project is to develop a comprehensive vision for this corridor, including improvements to multimodal transportation, sustainable infrastructure, and community landscape spaces. The workshop will start with a presentation on draft design concepts for Russell Boulevard, followed by small group interactive sessions to gather feedback. Learn more 

Register for the event here

Reimagine Russell Boulevard is a partnership between City of Davis and UC Davis to reimagine the 3-mile corridor between B Street to the west city limit.