The College Tour Sneak Peak Watch Party
Sunday, September 26, 2021, 4 – 5pm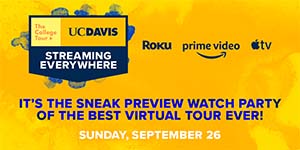 Event Type:
Free Events, Tours
Presented by:
Office of Strategic Communications
We are excited to unveil UC Davis' episode of The College Tour, a new streaming series created by award-winning Hollywood producers to help students and families visit colleges across the country, even if they can't go in person. In fact, UC Davis is the first California university to appear on the show. The episode reveals UC Davis through the experiences of eight undergrads and one alumna, all on their own unique journeys. This fall, the episode will begin streaming on Amazon, Roku and other channels (it's already available to watch through The College Tour's mobile app). We're getting ready to give our community a sneak preview, and a watch party. Join us! It'll be the virtual event of the season.
Sneak Preview Watch Party
4 p.m. on Sunday, Sept. 26
Streaming live on YouTube
Everybody — from alumni and our campus community to prospective students far and wide — is invited and asked to register online. The event will be hosted by SF Giants announcer Amy G with special guest, The College Tour host Alex Boylan, and will be live streamed from UC Davis Health Stadium as well as other watch party venues on campus and in town. We will have a limited number of VIP guests in the stadium during the recording, and encourage viewers to host their own outdoor watch parties.
We encourage departments or units to participate by promoting the episode and watch party on their social media, web, and email channels. With an expected worldwide viewership of 151 million+, UC Davis' episode of The College Tour is a great vehicle for telling the world about the opportunities and groundbreaking research UC Davis offers.

Read more about the episode in this article from Dateline UC Davis.