opens in new window
Global Energy Managers Workshop
Thursday, November 3, 2022, 9am – 2:50pm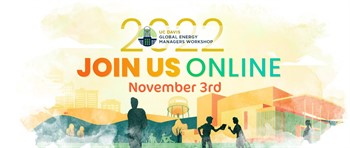 Event Type:
Conferences and Symposia, Free Events
Presented by:
Energy and Efficiency Institute
On November 3rd, 2022, UC Davis will host the fourth Global Energy Managers Workshop where facility managers, students, and faculty from around the world will share best practices in campus energy management, carbon reduction strategies and community engagement.
This year's event will be online via Zoom. We have an exciting agenda and hope you can participate.