Global Accessibility Awareness Day
Thursday, May 20, 2021, 12:30 – 4pm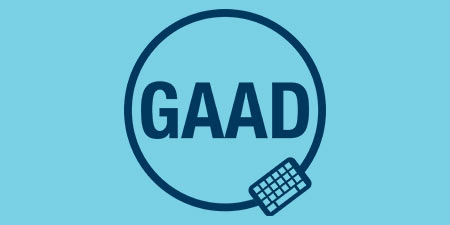 Event Type:
Forums, Discussions and Information Sessions, Lectures and Seminars
Presented by:
Student Disability Center, Information and Educational Technology, Disability Issues Administrative Advisory Committee and Staff Diversity Administrative Advisory Committee
UC Davis will observe Global Accessibility Awareness Day, or GADD, with a virtual program comprising two presentations and a keynote. Here is the program:
Presentation — By VZP Digital, on making events accessible. 12:30-1 p.m. Moderated by Josh Hori of the Student Disability Center. Register here.
Keynote — Regine Gilbert, user experience designer, educator and international speaker. Moderated by Pablo G. Reguerín, vice chancellor of Student Affairs. 1-2 p.m. Register here.
Presentation — By Margaret Merrill, UC Davis instructional designer, on Canvas course site accessibility. 2-2:30 p.m. Register here.