Far Right Extremism and Human Rights in the United States: Global Perspectives
Wednesday, April 21, 2021, 12 – 1pm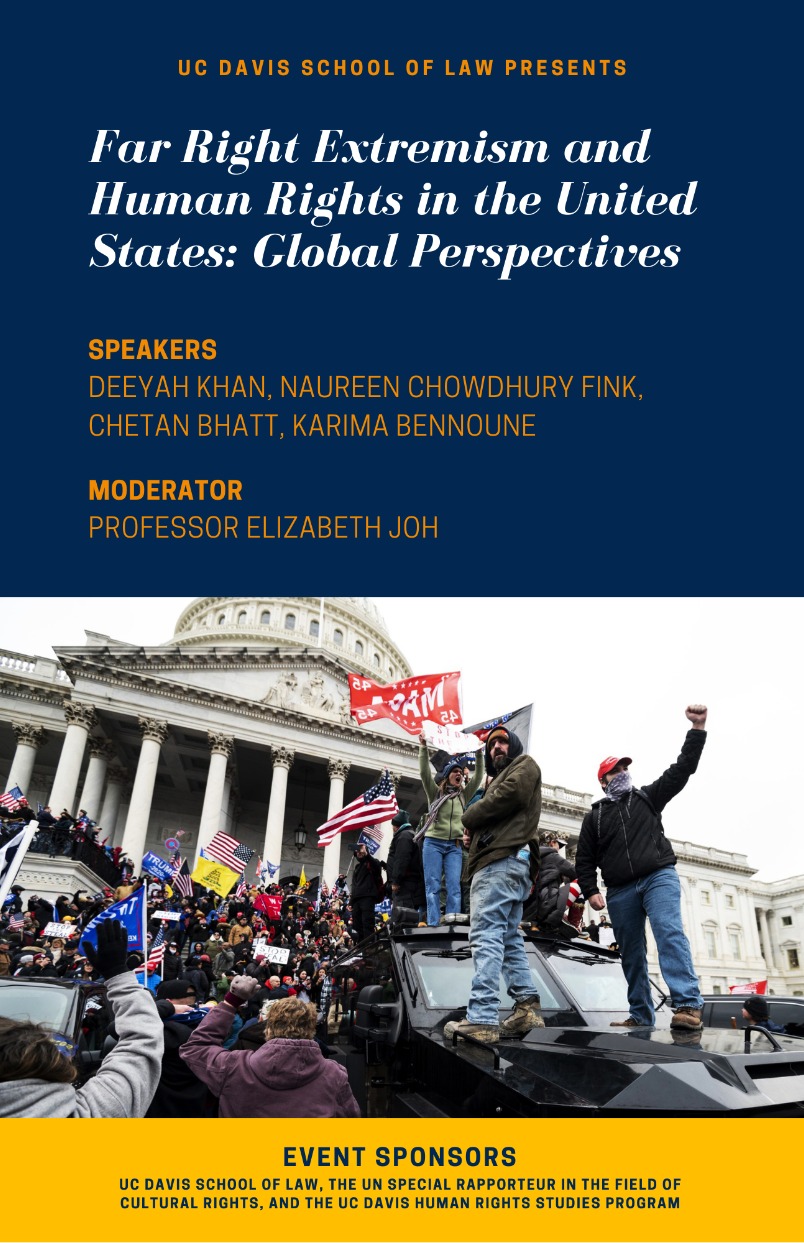 Location of Event:
UC Davis Campus
Event Type:
Conferences and Symposia
Presented by:
UC Davis School of Law
Wednesday, April 21
12 - 1 p.m. (Pacific)
International time zones:
8 - 9 p.m. (United Kingdom)
9 - 10 p.m. (Central European)
MCLE credits will be available
register for Zoom link
Coming April 13-20, watch "WHITE RIGHT: MEETING THE ENEMY," directed by panelist Deeyah Khan, in advance of the event.
Invitation to view the film to follow.
The January 6 attack on the U.S. Capitol displayed to the world what experts had warned of for years: that rising tides of far right extremism in the United States pose a significant threat to human rights. This event, featuring global experts, will explore the human rights implications of US far right extremism and the strategies that may be employed to respond, in light of lessons learned from in-depth research on the United States, and of human rights approaches to other forms of extremism. 
Event Sponsors:
UC Davis School of Law
The UN Special Rapporteur in the field of cultural rights
UC Davis Human Rights Studies Program
Moderator:
Elizabeth Joh, UC Davis Law Professor
Event Speakers:
Deeyah Khan, Director of "WHITE RIGHT: MEETING THE ENEMY" and UNESCO Goodwill Ambassador for artistic freedom and creativity
Naureen Chowdhury Fink, Executive Director of The Soufan Center
Chetan Bhatt, Professor of Sociology, London School of Economics
Karima Bennoune, UC Davis Law Homer G. Angelo and Ann Berryhill Professor of Law and U.N. Special Rapporteur in the field of cultural rights