Aggies Unite: Learn Aggie Fight with SAA and Athletics!
Friday, April 16, 2021, 2 – 2:50pm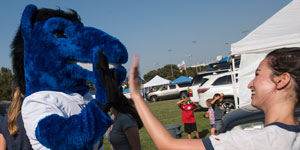 Event Type:
Athletics and Sports, Ceremonies, Family Events or All Ages, Forums, Discussions and Information Sessions, Free Events, Lectures and Seminars, Receptions, Banquets and Networking, Special Events, Student Organized Events, Workshops and Training
Presented by:
Student Alumni Association, Cal Aggie Alumni Association, UC Davis Athletics
Come learn the Aggie Fight Song with the Student Alumni Association and UC Davis Athletics to get into the spirit for Picnic Day and the UC Davis Baseball team's series against Cal State Fullerton! In the process, you'll complete an Aggie Tradition as well. You won't want to miss the Cal Aggie Alumni Association's other Picnic Day events.
All attendees will receive a coupon for Woodstock's.

REGISTER NOW!
The first 10 people to show their Aggies Unite registration at the Baseball game info table will receive a prize pack (must reserve a ticket via UCDavisAggies.com (or students, GoAgsPromo.com, code UCDSTUDENT) due to. limited COVID protocol capacity. For those unable to attend the game in person, we are hosting a Baseball Watch Party!