Staff Assembly General Meeting
Tuesday, March 16, 2021, 12 – 1pm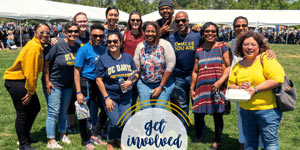 Monthly on the 2nd Tuesday of the month through June 8, 2021
Location of Event:
UC Davis Campus
Event Type:
Forums, Discussions and Information Sessions
Presented by:
Staff Assembly
Agenda topics include three campuswide initiatives with which Staff Assembly is involved: Workplace Reimagined Working Group, Staff Experience Task Force and Next Generation Reforms for Campus Safety Task Force. Each will be the subject of a breakout session, and meeting participants can choose which session to attend, to learn more and-or offer feedback.
Note: This meeting is taking place on the third Tuesday of the month (instead of the customary second Tuesday). Staff Assembly general meetings, open to all, are scheduled monthly through June, generally from noon to 1 p.m. See the schedule here and refer to that same page monthly for information on whether meetings are being held remotely (and how to participate) or in person (and where).