Exhibitions: NEW ERA, ColorForm and Landscape Without Boundaries
Thursday, September 26 – Sunday, December 15, 2019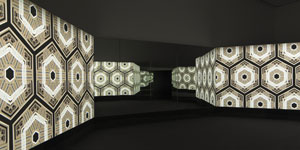 Location of Event:
UC Davis Campus
Contact Phone #:
530-752-8500
Event Type:
Arts and Entertainment, Free Events
Presented by:
Jan Shrem and Maria Manetti Shrem Museum of Art
Two exhibitions are closing in December:

Landscape Without Boundaries — Works addressing and reflecting the Northern California landscape in the years after World War II. Through Dec. 15.
ColorForm — Sculptures and drawings by Kathy Butterly, who received a Master of Fine Arts degree at UC Davis in 1990. This is her first retrospective exhibition. Through Dec. 29.
Also on display in December and into the new year: The NEW ERA installation, set within a hexagonal pavilion built into the gallery space, featuring three projectors set opposite three mirrored walls, putting viewers in the middle of a poetic and visual narrative about humanity's history and future. Through June 14.

The museum is open most days through New Year's, with the exception of the official university holidays, Dec. 24-25 and Dec. 31-Jan. 1, and will follow regular hours: noon-6 p.m. Tuesday, Wednesday and Friday; noon-9 p.m. Thursday; and 11 a.m.-5 p.m. Saturday-Sunday.

But, after ColorForm closes Dec. 29, and after the museum's regular Monday closure, Dec. 30, and the holiday closures, Dec. 31 and Jan. 1, the museum will not reopen until the winter season celebration, 3-5 p.m. Sunday, Jan. 26 (after being closed from Jan. 2 to 25 for installation).