opens in new window
Exhibitions: On Aggies and Veterans
Thursday, September 6 – Friday, November 2, 2018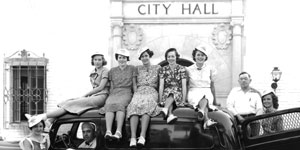 Location of Event:
UC Davis Campus
Contact Phone #:
530-219-8258
Event Type:
Arts and Entertainment, Fairs, Expos and Exhibits, Free Events
Presented by:
Bill and Sharon Dianne Hollingshead
Sponsored by:
Buehler Alumni Center and College of Letters and Science
Bill Hollingshead '60 and Sharon Dianne Hollingshead '63 present two exhibitions, each starting Sept. 6 and concluding different dates in November.

"The Art and Heart of Being an Aggie" — Featuring photos from the early- to mid-20th century by Bill Hollingshead's father, Paul W. Hollingshead, who ran a Woodland photo studio from 1932 to 1962; and paintings by Sharon Dianne Hollingshead. Images reflect social and civic groups in the area, parades and other events from the past, and the California Aggie Marching Band (Bill was a member). Sept. 6-Nov. 2.
"A Salute to All Our Veterans" — In celebration of the 100th anniversary of the end of World War I (Nov. 11, 1918), the Hollingsheads have gathered historic photos from the UC Davis Library documenting the contributions of the University Farm (which would become UC Davis) to the war effort through agricultural education and farming developments, along with photos taken by Paul Hollingshead at Camp Kearny, San Diego County. Sept. 6-Nov. 30.

Opening reception: 4-7 p.m. Friday, Sept. 7. Regular hours: 8 a.m.-5 p.m. Monday-Friday.

Read more about the exhibitions in this article on the College of Letters and Science website.